Matthew Chabal, III
PARTNER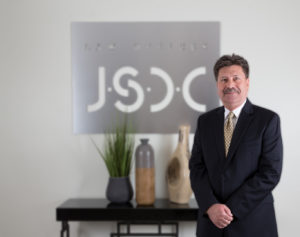 Matthew Chabal, III, a partner in the firm, is a graduate of the U. S. Naval Academy. He earned his Juris Doctor degree from the Dickinson School of Law, magna cum laude. He is admitted to practice before all Pennsylvania state and federal courts and the U. S. Supreme Court, and has been admitted pro hac vice in numerous states.
His practice focuses on the areas of commercial litigation, construction law, and the resolution of disputes through litigation, arbitration and mediation. He also serves as a Certified Mediator for the U. S. District Court for the Middle District of Pennsylvania. Before joining JSDC, Matt was a law clerk to a federal judge and a partner in one of the largest law firms in the country.
Matt retired from the Navy Reserve with the rank of Captain after a 30-year career as a Navy pilot. Following his flying tours, his assignments included tours as a Deputy Inspector General, in the Pentagon, as a Navy Reserve Unit Commanding Officer and as a Navy Emergency Preparedness Liaison Officer (NEPLO). He was activated and assigned to the Pentagon immediately following the terrorist attacks on 9/11 and for Hurricane Katrina recovery efforts in New Orleans. He has received numerous awards including the Defense Meritorious Service Medal, the Meritorious Service Medal (3 awards), the Navy Commendation Medal (2 awards), the Army Achievement Medal, the Humanitarian Service Medal and various unit commendations and service awards.
Matt is a member of the American Bar Association Forum on the Construction Industry and the Sections of Litigation and Public Contract Law. He is also a member of the Civil Litigation Section of the Pennsylvania Bar Association, the Federal Bar Association, the Dauphin County Bar Association, and the Associated Builders and Contractors. He has written and lectured on construction law topics, arbitration and mediation.
EDUCATION
Dickinson School of Law (J.D., magna cum laude, 1987)
United States Naval Academy (BS, Physics, 1977)